Technology
How to Message Influencers on TikTok That Don't Follow You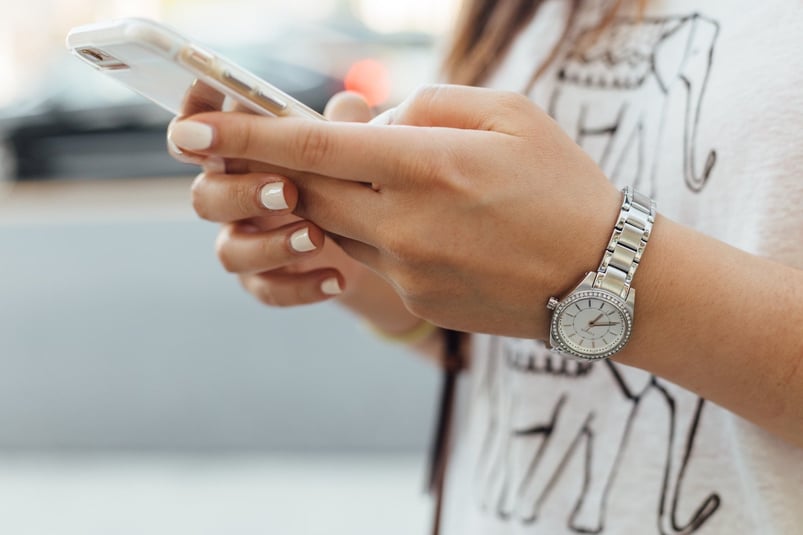 If you're eager to feature TikTok influencers in your marketing campaigns, you're not alone.
That's because TikTok content creators are crushing it on behalf of brands right now. From driving sales to raising awareness, the benefits of TikTok for business are clear.
The problem? TikTok doesn't let you message accounts that don't follow you.
And so connecting with potential influencers on the platform can be tricky.
Don't panic, though! There are ways to get in touch with influencer accounts without DMs.
In this post, we'll teach you how to contact TikTok influencers even if you aren't mutuals (yet)!
5 Ways to Reach TikTok Influencers That Don't Follow You Back
Trust us: we know it's frustrating to not be able to tap the DM button right away. 
The good news? You have plenty of options when it comes to getting in touch with influencers. Before you follow tons of TikTokers and pitch them cold, try these strategies first.
1. Look for an Email Address in Their TikTok Bio
Despite popular belief, DMs aren't the only way to communicate with creators.
Consider that many influencers actually prefer receiving emails over direct messages. With a dedicated business inbox, influencers can keep their personal and brand messages separate.
Thankfully, finding an influencer's email address usually doesn't require much digging. If an influencer wants to receive messages from brands, they'll put their email address front-and-center in their TikTok bio.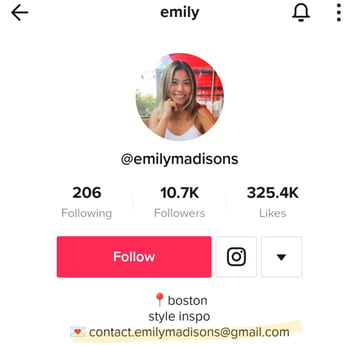 Source: @emilymadisons
Simple enough, right? The upside of contacting influencers via email is that you don't have to second-guess whether you're reaching them the "right" way. Assuming your outreach email doesn't bounce back, all you have to do is wait and see if your pitch landed.
Note: for macro-influencers, you might come across the email address of their management agency versus the influencer themselves. Keep that in mind when crafting your pitch!
2. Uncover Contact Info Through Their Bio Link
Social media landing pages are all the rage right now among influencers. 
And they're awesome resources for figuring out how to message TikTok influences.
Bio link tools act as microsites where influencers can link to their promotional pages, socials and contact information. Popular social media landing page platforms include: 
Linktr.ee
Bio.site
Linkin.bio
Milkshake
Campsite
You've probably seen your fair of these links in the wild. If a potential influencer has one in their bio, chances are you'll be able to reach out to them shortly. 
Check out the influencer below pointing people directly to her bio link. From there, prospective brands can see her email address and blog among other pages.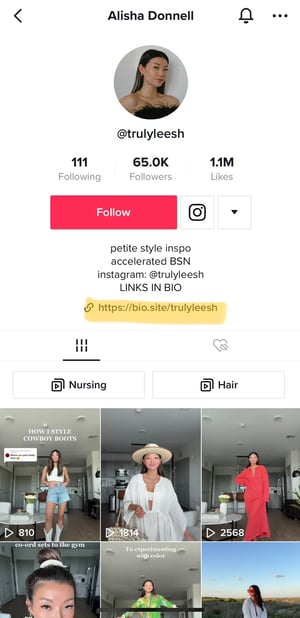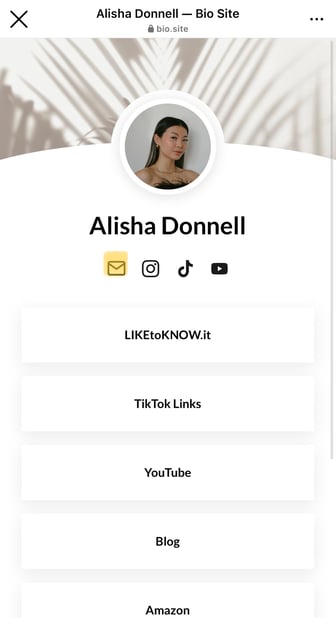 Source: @trulyleesh 
When you click on the email icon from here, you can actually start writing your outreach message right away. You likewise have the ability to save the email address into your contacts or copy it over to your influencer spreadsheet.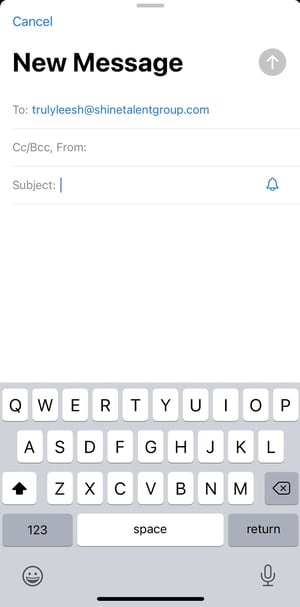 Of course, we recommend taking extra time to personalize your pitches rather than try to rush them. That's another reason to check out someone's social media landing pages prior to outreach.
For example, bio links can uncover which brands someone already collaborates with or what their content beyond TikTok looks like. These details can be valuable for letting influencers know you've done your homework.
3. When In Doubt, See If They're Active on Instagram
Let's say you've found an influencer you'd really like to work with on TikTok but there's no email address or bio link to be found.
Bummer! But if you see an Instagram icon, you might be in luck. 
We've found that many influencers have their Instagram optimized for brand outreach but not their TikTok account. Think of Instagram as a secondary social search engine if you can't find someone's contact information on TikTok.
For example, check out this Statusphere creator that has a Linkt.ree and an active email button on Instagram. She also has her TikTok linked directly in her bio as well.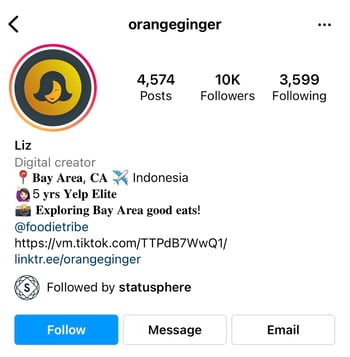 Source: @orangeginger 
If an influencer links their TikTok in their Instagram bio, that's a good sign. Doing so means they want people to go there and potentially reach out about their TikTok presence.
You have to be tactful if you get a TikToker's contact info from Instagram, though. For starters:
Prioritize finding an email address, bio link or contact form first. Ideally, you want to find a general point of contact instead of kicking off your TikTok outreach on Instagram. Doing so can be kind of awkward or confusing. However, some influencers do handle all of their brand collab conversations on Instagram.
Explain how you found their account and contact information. Remember: outreach should be warm and welcoming. You don't want influencers on the defensive and confused about you got their email address.
If your only option is to send a TikToker a DM on Instagram, be explicit about where you want to collab. 
4. Connect with Influencers on the TikTok Creator Marketplace
The TikTok Creator Marketplace is the platform's official space to connect with and hire creators. Through the Marketplace, you look up influencers to collaborate with based on their industries, audience size and engagement rate. 
Thing is, the TikTok Creator Marketplace isn't as much about messaging as it is about hiring. Rates on the platform also vary wildly from creator to creator, too. Although this isn't a free way to message influencers on TikTok, it's still an option.
5. Reach Influencers Through a Database or Third-Party Platform
If you want to find influencers' contact information faster, consider third-party tools that can help. For example, you could potentially pay for access to an influencer database. Depending on the type of database you invest in, you have near-instant access to hundreds (or thousands) of influencers' email addresses. 
The catch? Database access isn't cheap (hint: some cost $2,000 per month). Beyond that, consider that databases aren't always 100% accurate or up-to-date. If you're reaching influencers that aren't part of a creator network, you're still on the hook for pitching them successfully. Paying for access to a database can be a gamble.
Note: If the pitching process sounds too time-consuming, consider platforms that connect you with creators without having to reach out to them manually. To save even more time, you might work with a full-service platform like Statusphere that matches your brand with TikTok influencers and handles your campaigns from A to Z!
What's the Best Way to Message TikTok Influencers?
Now that you know the basics of contacting influencers on TikTok, let's dive into how to reach out. 
Many influencers will specify how they prefer to be contacted in their bios.
And if they do, you should abide by that!
For example, the influencer below actually uses her TikTok bio to advise brands to DM her on Instagram if they want to collab.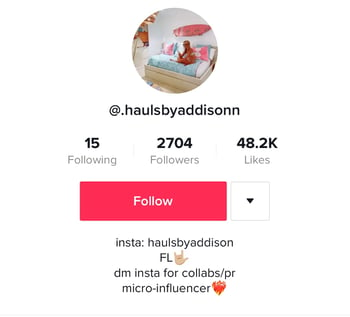 Source: @.haulsbyaddisonn
Influencers provide brands with instructions like this for a reason. For example, some creators might want brands to show interest by getting followed prior to a pitch. Others might want to reduce spam requests. Brands should respect creators' preferences regardless. 
But let's say an influencer doesn't specify how they want to be reached. Then what?
Again, accounts on TikTok need to be mutual followers before they can message each other. Whether or not a DM is actually necessary for a collab request really comes down to your pitch and preference. 
Below are the pros and cons of messaging TikTok influencers via DM versus email.
Pros

Cons

If an influencer is active on TikTok (hint: they probably are), they'll likely see your message the same day you send it. If nothing else, they'll see a notification until they've read your message.
Since DMs require you to be mutual followers, influencers should already be familiar with you and your brand prior to outreach.
DMs are typically more relaxed and less "formal" than email pitches.

Formatting a DM can be tricky if your pitch is longer than a few sentences.  
If your ideal influencer gets a ton of DMs daily, you run the risk of getting left on "read."
You're likely going to have to move your conversations to email eventually (think: contracts) so reaching out via DM adds an extra step there.
On the flip side, here are the pros and cons of emailing TikTokers directly for collabs.
Pros

Cons

You can go into greater detail about your pitch (including multiple links and attachments if you need to include them). 
Total control over formatting.
Some influencers have dedicated business emails, meaning your pitch is more likely to be seen.

If your creator's email account is cluttered or doesn't get checked on the regular, you might get lost in the shuffle.  
Assuming you're not mutual followers, your pitch has to be truly compelling to get (and hold) an influencer's attention.
Even relevant cold emails can get flagged as spam.
The simple answer to how to contact TikTok influencers? Stick to how they want to be reached. Doing so is a subtle way to make a positive first impression during outreach.
How to DM Influencers on TikTok Step-by-Step
Let's say that you've decided to go the DM route. Below is a quick breakdown of what direct messaging on TikTok looks like.
Step 1: Once you've found a creator you want to contact, tap the "Follow" button if you haven't already.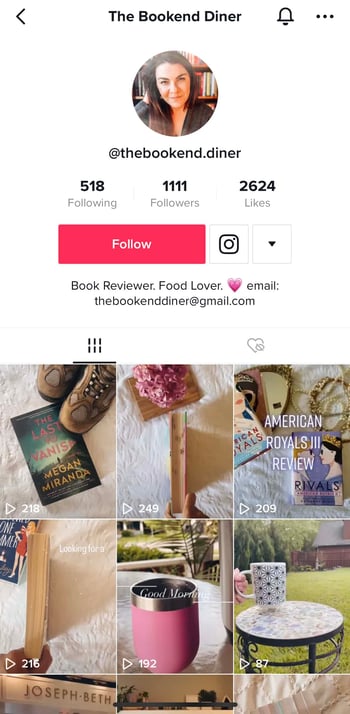 Source: @thebookend.diner
Step 2: Once the creator follows you back, you'll see a checkmark icon indicating that you're mutual followers. Now you'll have access to the "Message" icon and can send them DMs.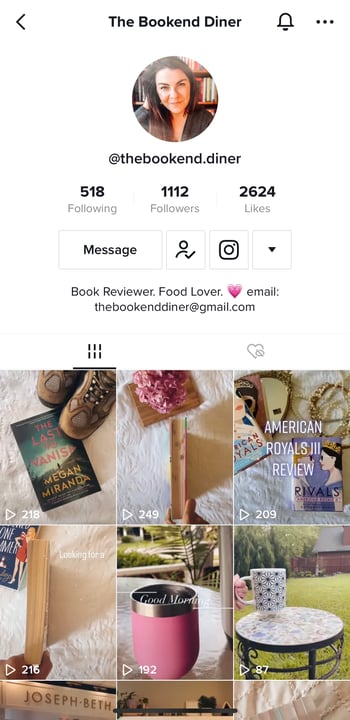 Source: @thebookend.diner
Step 3: From here, you'll be prompted to write your DM. Like other social media platforms, TikTok will keep track of your entire conversation history.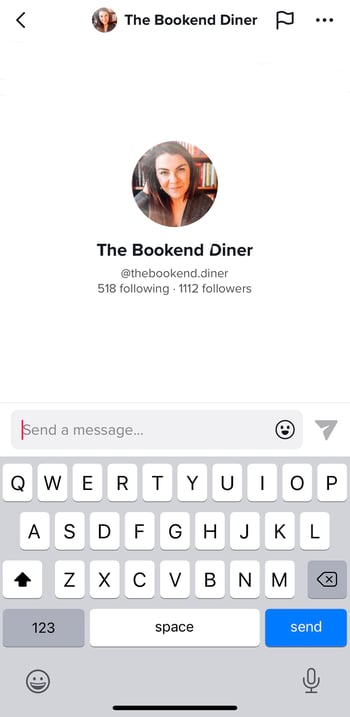 Source: @thebookend.diner
And that's that!
Before You Follow and DM TikTok Influencers, Do These 3 Things
Trust us: partnering with TikTok creators is a smart move for growing your brand.
Still, you need to be strategic about how you go about your outreach. Below are three must-dos for brands before trying to follow and message influencers.
1. Narrow Down Your List of Potential Influencers (Be Picky!)
Spoiler alert: TikTok outreach isn't a numbers game.
Don't feel pressured to message each and every influencer you encounter. Doing so is a waste of your time, not to mention their time.
So skip the mass message and focus on finding TikTok influencers that you really want to work with. If you want to increase your odds of successful outreach, consider approaching micro-influencers first. It's typically easier to get on smaller creators' radars and earn follow-backs from them, too.
There are countless creators out there for any given industry. We recommend combing through potential creators' feeds for existing collabs and promotional posts. Do they already promote brands or use products similar to your own? These answers are valuable for finding influencers that want to work with companies like yours.
2. Make Sure Your Brand's Account "Looks the Part"
Simply by being a brand account, you might be surprised at how many follow-backs you earn by default.
That said, anything you can do to make your account stand out and look credible is a plus. Ask yourself: 
Do you have recent pieces of content published to your account? 
Is your bio completely filled out with relevant links, information and a call-to-action?
Do you have a high-quality profile picture?
If you want to make sure your account looks like a million bucks, review some of the best brands on TikTok for inspiration.
3. Engage With Your Influencers' Content (But Be Authentic!)
Assuming that you're following an influencer, it's a good idea to engage strategically. That might mean leaving "Likes" on their TikTok videos or dropping a complimentary comment or two. 
Try not to be too aggressive, though. You don't want to look like a spammer.
And whatever you do, don't drop a bunch of canned comments begging for collabs!
If you enjoy someone's content, be authentic about letting them know and inviting them to collab. Again, don't go overboard. Seeing 52 notifications from your account in five minutes is a poor first impression for a potential influencer.
Best Practices of TikTok Outreach Messages from Brands
Whether you reach out via DMs or email, you need to make your pitch count.
And no creator wants to read a novel in their inbox. 
Be as concise as possible in your message. Sure, you want to hype up your brand, products and potential partnership. Doing so is a balancing act, though. 
That's because influencers won't respond to giant walls of text. Our recommendation? Keep your outreach messages between 100 and 150 words.
While you need to be concise, you also don't want your messages to leave your influencers scratching their heads. Ideally, your pitches should anticipate and answer their questions before they have a chance to ask them.
Here are the key points you need to get across in your outreach ASAP:
Who your brand is, what you do and what you're all about
Why you're reaching out
What they can expect to get out of the partnership
Where they can reach you 
For more guidance and inspiration on how to condense all of the above into an effective pitch, check out these TikTok message templates. 
How to Nail Your TikTok Influencer Outreach 
Given the growing popularity of TikTok influencer marketing, more and more brands are reaching out to creators for collaborations.
As a result, you need to make your outreach efforts stand out. Doing so starts with figuring out how to message TikTok influencers in the first place. Now you know how to do exactly that!
Still, messaging influencers on TikTok can be time-consuming and frustrating when you don't get the responses you're looking for. Whether you're getting ghosted or aren't sure if your pitch is landing, we totally understand the struggle.
And we're here to help!
Statusphere's full-service influencer platform connects brands with TikTokers and handles every piece of your partnerships. We eliminate the need to message influencers altogether by matching you directly with creators that'd be the best fit for your brand. Oh, and we also use 250+ data points to ensure that your campaign's influencers are always relevant.
Want to learn more about how the process works? Contact one of our consumer-to-consumer marketing experts to understand how we can get influencers posting about your brand on TikTok ASAP.
This article was first published in November 2020. It was last updated July 27, 2022.