Technology
Dos and Don'ts of Using TikTok's Music Library as a Business Account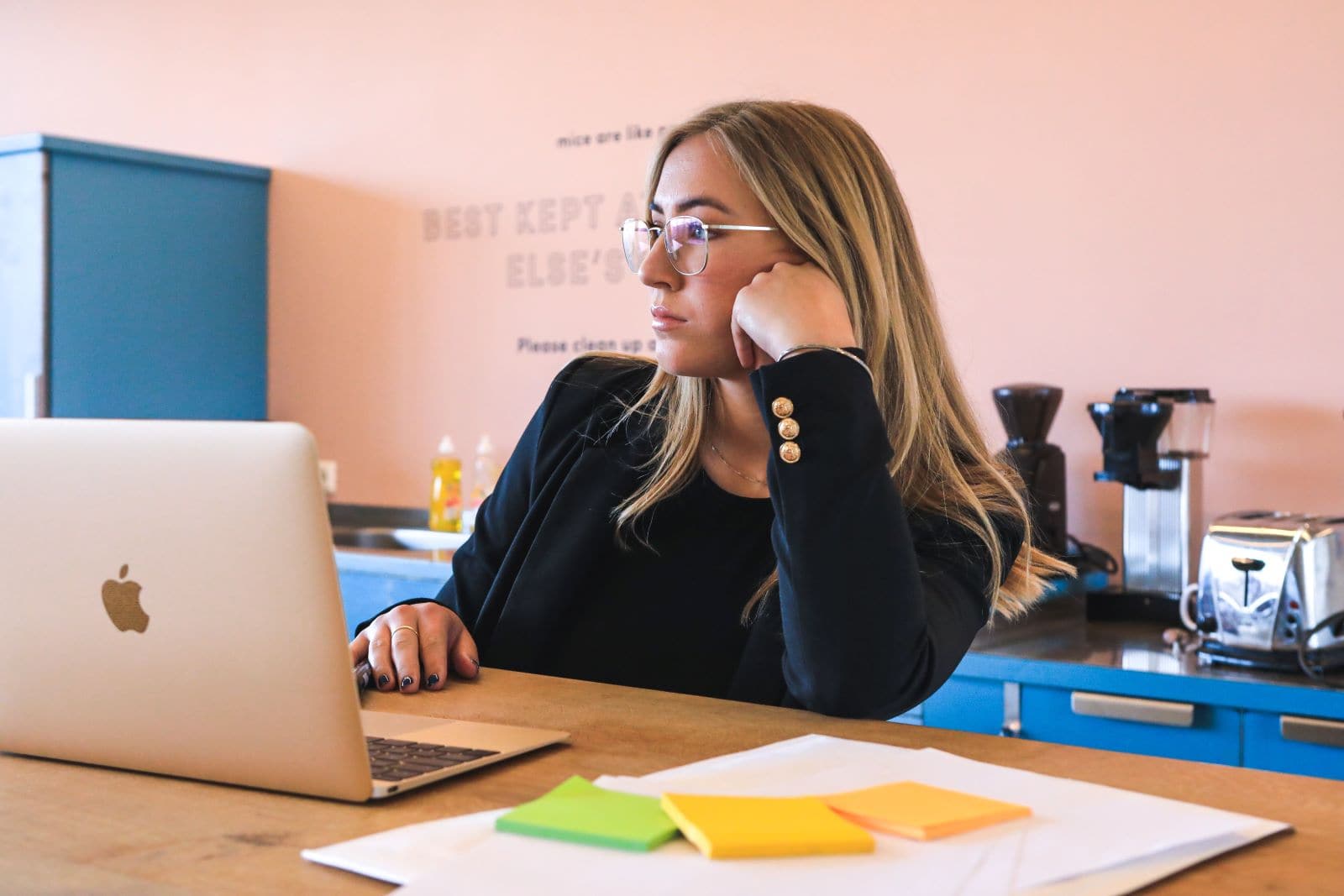 If your brand uses TikTok, you're probably familiar (and maybe even frustrated) with the platform's restrictions on music usage for business accounts. If this is the first time you're hearing about them, we'll catch you up! In May 2020, TikTok launched its Commercial Music Library, a pool of pre-cleared, royalty-free tracks for business accounts to use freely for marketing purposes. This was a big change for brands, as many mainstream sounds became unavailable for business use. 
Since these new restrictions were put into place, many brands have been left confused as to which sounds are okay to use and which ones aren't, whether these restrictions apply to music in ads as well, and how to make their content trendy without being able to leverage already-popular songs. Below, we'll go over who this change affects plus the best practices when it comes to using sounds on TikTok, and what to avoid! 
Which Accounts Have to Stick to TikTok's Commercial Music Library?
According to this TikTok for Business article, any account using TikTok for "marketing, advertising, sponsorships, endorsements or publicity" should stick to the Commercial Music Library. This includes both verified and unverified business accounts. If they don't, they risk running into copyright violations.
Luckily, the TikTok app features multiple warnings to help businesses play by the rules. If you're creating your own TikTok video and you click the "Add sound" button, for instance,  you'll be taken directly the the Commercial Music Library. It should look like this: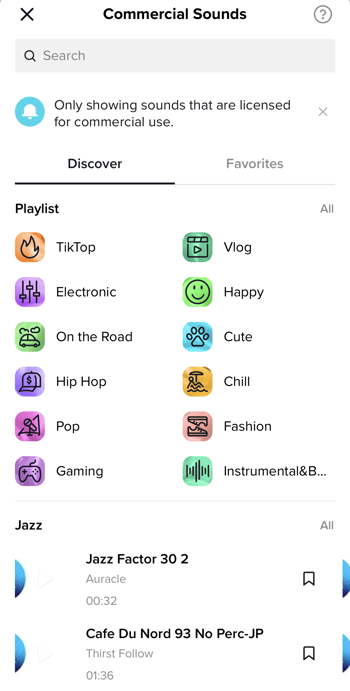 Pro tip: Browse through the "TikTop" Playlist for popular sounds that are licensed for commercial use. 
Likewise, if you click on music from another creator's video, or from the Trending page, you'll see the message "This sound isn't licensed for commercial use." Unless you've obtained the appropriate rights, you'll definitely want to steer clear of those.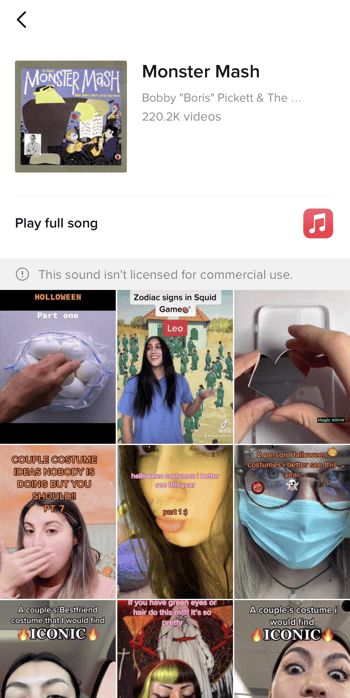 And finally, if you do select a sound from outside of the Commercial Music Library (like a creator's original audio for instance, or if you missed the above warning message on a song that isn't licensed for commercial use) TikTok will ask you to "accept the Music Usage Confirmation" to ensure that you've obtained the sound properly.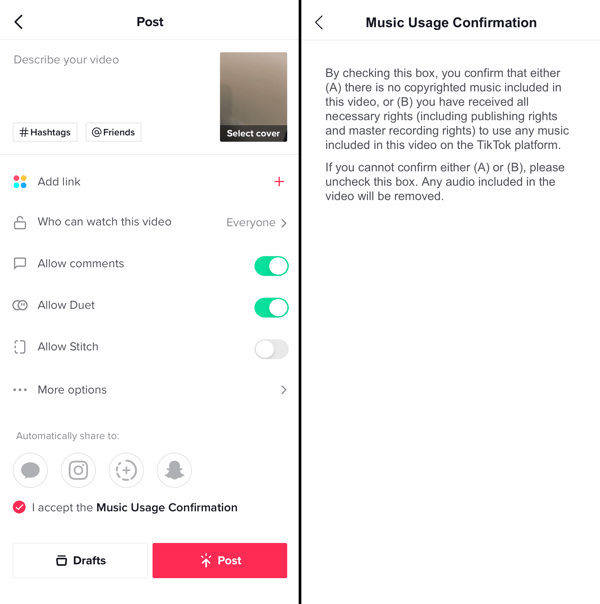 So at the end of the day, there are plenty of safeguards in place to protect businesses from getting themselves into sticky situations.
Now you might be wondering, what are some alternatives for businesses to use in their TikTok content? There are several choices within the Commercial Music Library, original sounds from creators (so long as they don't contain any non royalty free music), or even creating your own song. Regardless of where your brand is at, it's important to be aware of the guidelines before creating any promotional content on TikTok! 
With that in mind – on to the dos and don'ts! 
TikTok Music Dos
Use the sounds from TikTok's Commercial Music Library – With over 150,000 free-to-use tracks, there are plenty of

options to choose from

! The library features music with and without lyrics, and in several genres. New songs are added constantly to provide businesses with a wide array of options that will save them time and prevent them from running into copyright infringement issues.

Create your own TikTok sound

– If you're not satisfied with the options from the library, you can upload and use originally produced sounds that you own. A great strategy with original sounds is to incorporate them into a TikTok campaign and invite other creators to use the sound in their content! This tactic can increase the sound's visibility and by extension, make your brand more discoverable on TikTok. Take a look at Ole Henriksen, for example, who did exactly that! They partnered up with

Statusphere

for their product launch and created an original sound accompanied by the hashtag, #YourMainSqueeze. So far, their audio has been used in 220 videos and the hashtag currently has 8.7M views!
Keep in mind that, according to TikTok for Business

,  if you're using an original sound that's not

in the Commercial Music Library, you are responsible for making any relevant copyright, usage, or licensing arrangements. 

Play with, and create, trends – Even though you may not be able to use already-popular songs, there are other trends your brand can leverage. These include popular dance moves, hashtags or challenges! Joining in on some of these popular trends while still using audio from the Commercial Music Library or your own sounds might be the way to go. One great example of this is Colgate's

#MakeMomSmile

challenge. They launched a trend for Mother's Day, using a song from the TikTok Music Library, where users would do something nice for their mothers and capture their smiles on video. Another option is to use user-uploaded sounds in your videos. A lot of times, a user creates an original audio that goes viral, creating a trend your brand can join in on. These are just a few of the many ways to be a trend-setter on TikTok without using copyrighted music!
Request permission to use copyrighted music – If after considering all options you decide a copyrighted sound is the only way to go, make sure you secure all of the necessary rights before publishing. This is the best way to pay respect to the artists and avoid legal trouble!
TikTok Music Don'ts
Try to use mainstream music

– While you can still access mainstream music and add it into your videos by ignoring TikTok's warnings, we don't recommend it. To avoid copyright issues, stick to the royalty-free library, create your own sounds and songs, obtain licenses for songs, or use an original audio from a creator (keep in mind that their sound also should not contain music that isn't licensed for commercial use if you include it in your own content). 
Use copyrighted music in ads

– Creating a TikTok ad doesn't mean you're allowed to use any music you want. Ads are promotional materials, which means that they also require you to use royalty-free music (or music you've obtained the necessary rights for).

Keep in mind that, if you're planning to launch a reservation campaign such as TopView ads, Hashtag Challenges, or Branded Effects, TikTok requires you to fill out an application to keep track of where and how the music is being used. For more information on this process check out this

TikTok For Business article

.
Use sounds from the Commercial Music Library to make content on other platforms

– The Commercial Music Library has restrictions of it's own: like the fact that TikTok doesn't permit users to distribute its music files. You can, however, add music from the library into your TikTok video, and then post that video to another platform (like Instagram) – you just shouldn't share the music files separately. Also, before selecting a song, pay attention to the "Useable Placements" column in the Commercial Music Library to ensure your song choice is approved for use on the platform you've chosen. To read the rules for yourself, check out these

Audio Library Guidelines

. 

Create your own sound just because

– Yes, we want you to take advantage of this feature, but only when it will benefit your brand's marketing efforts! Creating a low-quality sound, or an audio that doesn't align with your brand values, or what your followers enjoy, is not the best move. Do your research and pay attention to other trendy content to make sure you are hitting the right notes to appeal to your audience. And sometimes, it makes sense to connect with your followers by talking to them track-free so it feels like a 1-1 conversation! Regardless of what you choose, it's important to keep your brand's values in mind, use your resources wisely, and promote any music you do put budget behind so you'll get the most mileage out of it. 
Growing your TikTok presence was hard enough even when brands did have access to the mainstream songs that so often wind up trending! But, if you want to draw more of your target audience to your brand's account and build brand awareness on TikTok, there's still hope! We're experts at matching brands with creators who want to create authentic content about their products, and we can get them posting about your brand without you lifting a finger.  Reach out to us to see how we can take your next TikTok influencer marketing campaign completely off of your plate. 
Looking for other ways to master TikTok? Check out more of our tips.
Disclaimer: We're marketing specialists, not lawyers! This content is not legal advice and you should definitely consult a legal professional based on your needs and questions. We do not make any guarantees as to the accuracy or completeness of this information and take no liability or legal obligations for your use of this information.