Technology
5 Reasons TikTok Influencer Content Drives the Most Sales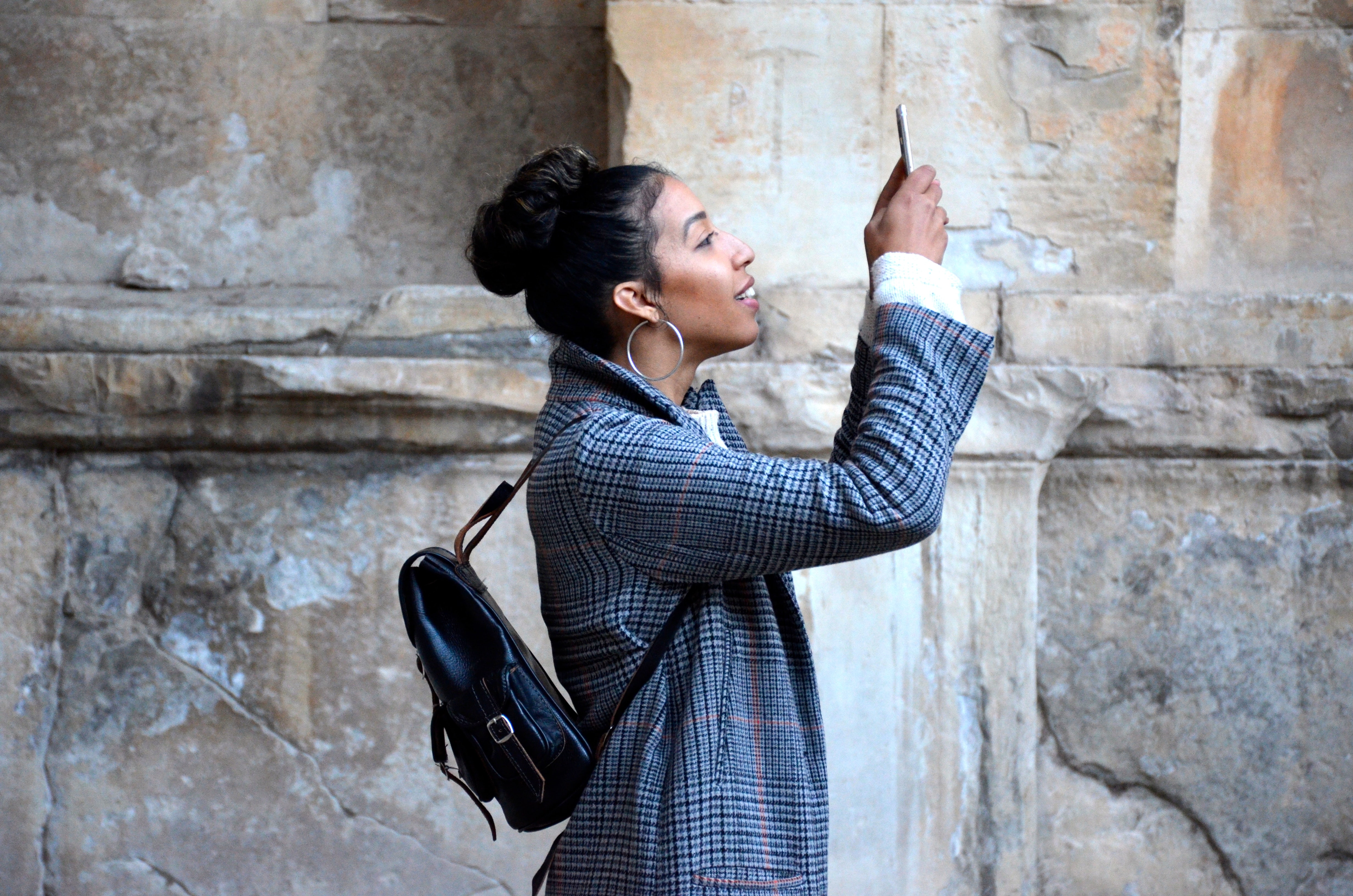 TikTok is easily the most popular social media app today, reaching up to 1.65 billion downloads in the App Store and Google Play. It is specifically targeted at video creators who share 15 to 60-second videos and gives to them access to a massive audience, music library and effects. TikTok makes it easy for content creators to post dynamic and oftentimes, more relatable content — putting TikTok influencers in high demand! 
With TikTok having 800 million active users, it'd be a shame for brands to pass up on this platform! Below we highlight 5 reasons why TikTok influencer content drives the most sales. 
1. Influencer Recommendations Go a Long Way
TikTok influencers actively share products that they love and encourage their audience to buy them. These influencers are promoting their favorite products in a non-sales-y way which is more likely to convince people to go out and buy said products. This word-of-mouth tactic helps drive sales in a seamless way and increases brand awareness tremendously! There's even a trend going around called #TikTokMadeMeBuyIt with 1.3 billion views! 
Some influencers who do this flawlessly are @mikaylanogueira,  @skincarebyhyram and @teresalauracaruso. They have driven sales to companies like Ulta, Cerave and Amazon respectively to the point where certain products they've promoted have sold out!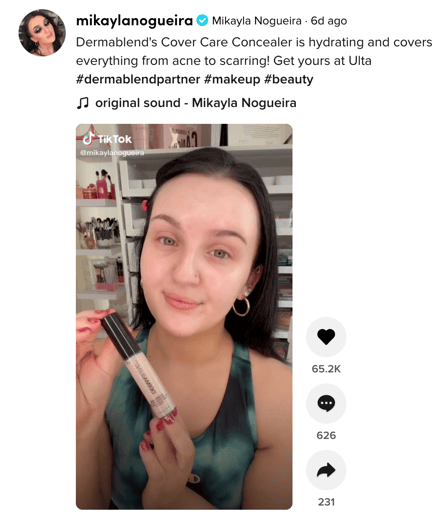 2. Access to Niche Influencers (and Your Target Audience)
TikTok makes it simple to find niche influencers that will be the perfect fit for your brand and the product you're promoting! You can do so by using the "Discover" feature, searching through relevant hashtags and crafting a personal message that gets them on board! By finding the influencers who are the perfect fit for your influencer campaign, you'll be better able to tap into your target audience. To learn more about crafting the perfect TikTok influencer outreach message, read this blog next. 
Brands everywhere are partnering up with TikTokers. From dance challenges and product features, to creating branded effects and educational content, there's no shortage of ways you can collaborate together and promote your brand in the process. 
3. Trends and Hashtags Often Go Viral
Whether it's by creating a hashtag campaign or participating in the latest trends, TikTok influencer content can ultimately help your brand gain more awareness and sales. 43% of TikTok users outside of China are between the ages of 16 to 24. Gen-Z is known for keeping up with the latest trends, which can mean more eyes on the content they create for your brand! Below are some examples of brands using influencers in creative campaigns to boost sales:
Amazon

: Influencers began posting items they purchased off of Amazon under the

#AmazonFinds

, which now has 1.5B views on the app. Brands have been using this to their advantage and have begun setting up Amazon shops to link on their TikTok accounts. 

Guess

: They encouraged influencers to create content wearing Guess' new denim line using the hashtag #InMyDenim. This hashtag challenge brought millions of views, increasing Guess' overall brand awareness. 

The Ordinary

: They had a TikTok user share a

before and after video

using their product and the video went viral. The video generated over 630k likes and was rumored to cause more than $1 million in sales. 
4. You Can Track Sales in an Efficient Way
TikTok has a new platform called TikTok For Business which allows advertisers to interact with the videos on TikTok. It lets marketers create ads that users can add to their videos. Its benefits include:
Brands can use unique and immersive formats to connect with audiences

Brands can reach audiences in 20+ regions

Maximize ROI by ensuring your target audience sees your ads and track their performance
This being said, partnering with influencers by creating a customized affiliate link for them to feature in their videos is an easier way to track sales if you don't want to go through the TikTok For Business program. Affiliate links allow for a cost-effective way to expand your reach and are an easy way to attract customers. Typically, TikTok influencers include promotion codes in their videos and lead users to a link in their bios with the affiliate link posted on there. Other affiliate marketing tactics on TikTok include:
In-Feed Video: Ads appearing between user videos on the "For You" page.

Brand Takeover: An ad that appears as you launch the app.

Hashtag challenge: When your brand creates a specific hashtag for influencers to use to advertise your product. It leads to brand awareness and increased reach.

Branded AR content: Usually found on the TikTok For Business platform, this allows brands to design a custom filter for the app. It encourages users to interact with your brand and show you off. 
5. TikTok's Algorithm is in Your Favor
We all know Instagram and its questionable algorithm but we don't have to worry about that with TikTok! The TikTok algorithm promotes content from creators small and wide—meaning not just famous people or macro-influencers—but possibly your next door neighbor or TikTokers across the globe. Since the algorithm favors content discovery, your TikTok collabs have the potential to be pushed toward a larger audience, allowing your brand to have an increased reach. 
Another perk of this platform is that content auto-populates on the For You Page based on users' interests. This means that based on users' likes and searched hashtags, your products will be showcased to users that are in your target audience and niche. 
If your brand is looking to experiment with TikTok and incorporate it into your social strategy but aren't sure where to start, Statusphere can help. Our marketing specialists will work with you to establish a plan and get TikTokers posting about your brand immediately–contact us today!