Technology
10 Examples of Brands Using TikTok to Drive Sales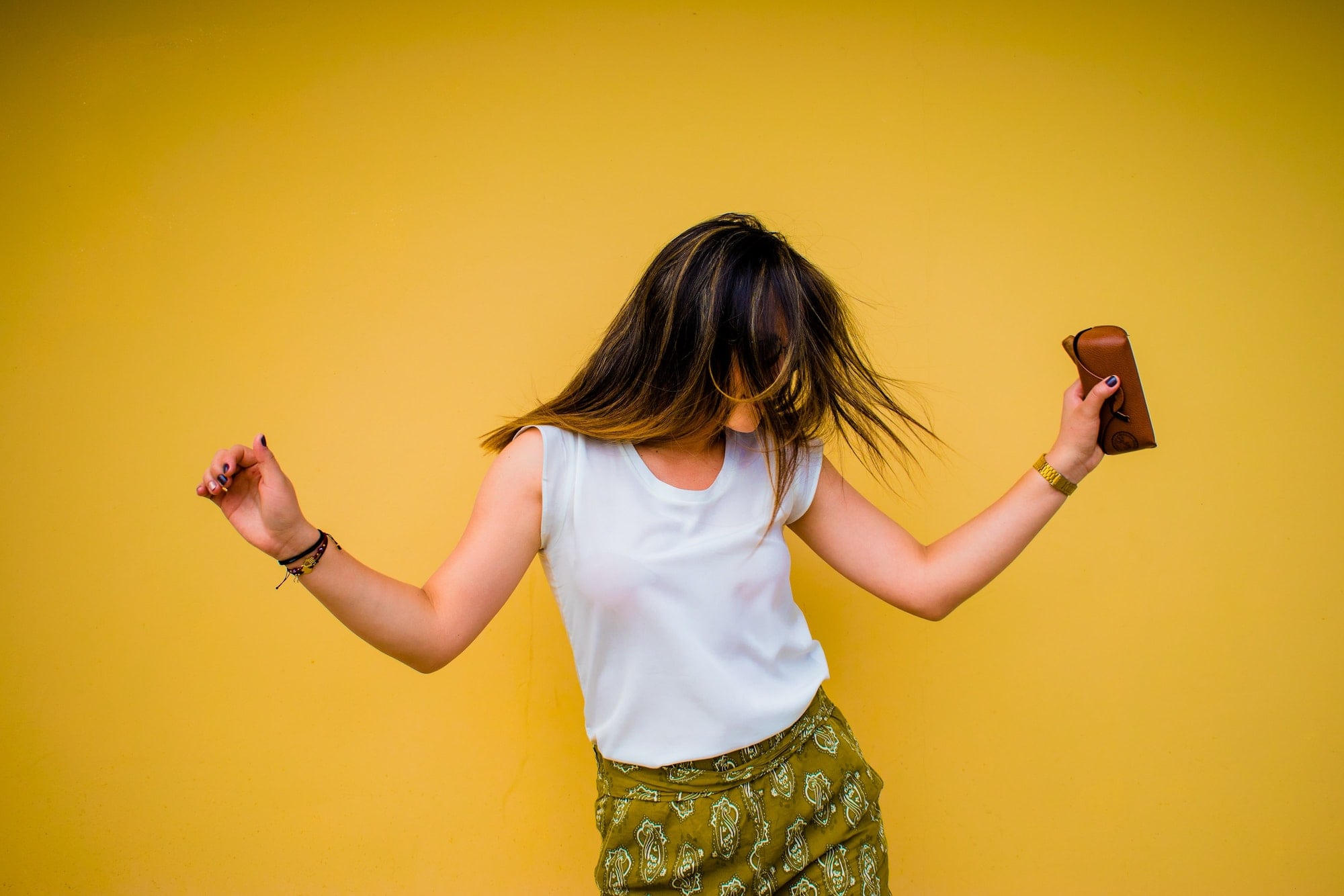 Brands across every industry have been taking advantage of all the unique marketing opportunities TikTok has to offer. Since the launch of the app, it has gained incredible traction this year alone. Brands can make creative content and reap the benefits from the unique algorithm and trends TikTok is known for. We've compiled a list of 10 brands that are rocking it on this app and driving sales in the process—all while connecting with TikTok users!
1. The Ordinary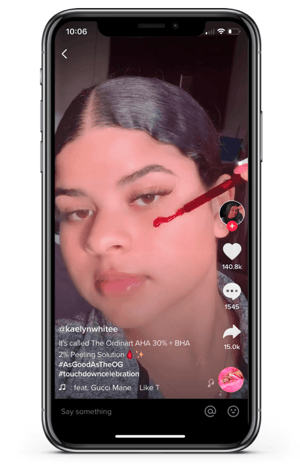 In February of 2020, The Ordinary had a TikTok user share a before and after video using their AHA 30% + BHA 2% Peeling Solution. The video went viral, generating more than 650k likes and 15k shares, and a rumored more than $1 million in sales.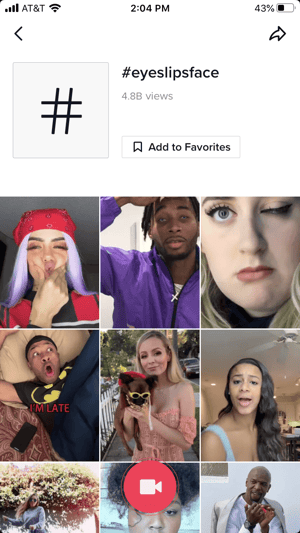 E.L.F Cosmetics commissioned a song called "Eyes, Lips, Face" (abbreviated as E.L.F) to create a hashtag challenge. Viewers were encouraged to use the song along with #EyesLipsFace while showing off their favorite look with the brand's products. Viewers watched challenge participants apply an array of different products in the E.L.F. makeup line—which in turn, boosted brand exposure and highlighted their products in action.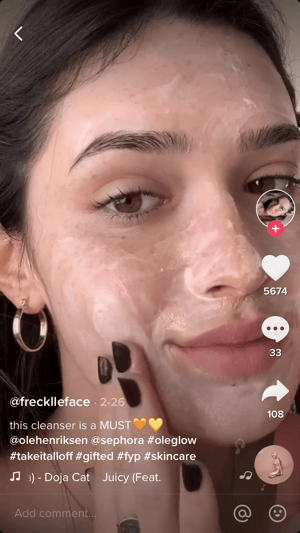 Ole Henrikson partnered with Statusphere and created a hashtag challenge to promote their skincare line with the help of TikTok influencers. They used the hashtag #TakeItAllOff  and encouraged influencers to demonstrate how they use the products in their daily skincare routine. With 260.6k views on the hashtag alone, the campaign helped spread awareness and build consumer trust within the influencers' audiences. This is incredibly valuable since consumers want to see how reliable and trusted skincare products are before buying.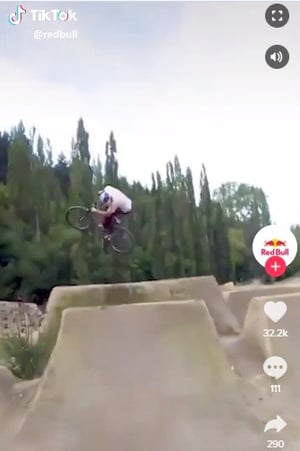 Red Bull's TikTok showcases famous athletes doing extreme sports and stunts which ties in perfectly with the energy drink's iconic slogan: "Red Bull Gives You Wings." By partnering with on-brand athletes and sports enthusiasts, Red Bull is gaining brand awareness and catering their content to an audience that's interested in what they have to offer. Imagine if Red Bull decided to partner with yoga instructors to promote their energy drink. Wouldn't make as much sense, right?
Radio Disney uses TikTok to highlight popular musicians singing or performing in the Radio Disney Studio. This tactic helps creates hype around song releases and builds a loyal community that the artists interact with on TikTok via interviews and other fun videos. Not only are they generating streams by pushing viewers to hear more on their app or Instagram, but they're engaging their fans in the process.
Spikeball, a popular game, uses its platform on TikTok to keep track of trends and create brand-specific content. They do a great job of incorporating their product in funny skits set to trending songs. For example, in one video they used a Spikeball net but instead of the ball, they used an actual ham and did a play on the slang words, "Don't make me go ham on them." (Implying that they are playing an intense game.)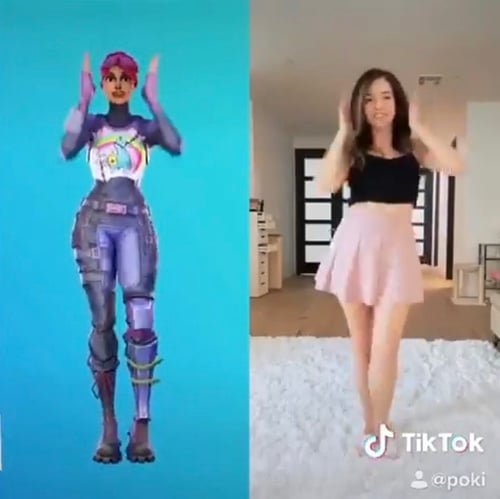 Fortnite, an online video game, invited TikTok users to their #EmoteRoyaleContest which challenged people to create dances that could be turned into official "emotes" to be used in the game. The challenge was used over 250 million times! By inviting users to interact with their brand like this, they're spreading awareness and leaving a positive impression on millions of viewers. Some examples looked like this: 
For more examples of brands creating hashtag challenges on TikTok, check out this blog! 
Crocs recently partnered with Post Malone to create a hashtag challenge called #ThousandDollarCrocs. It showcased some unique Crocs and currently has 2.8 billion views. By using a celebrity brand ambassador, Crocs was able to attract new audiences (and in turn, generate new sales) that might not have been reached before. The name recognition that comes with one big celebrity is great, but we typically recommend working with several smaller, micro-influencers to build longer-lasting customers.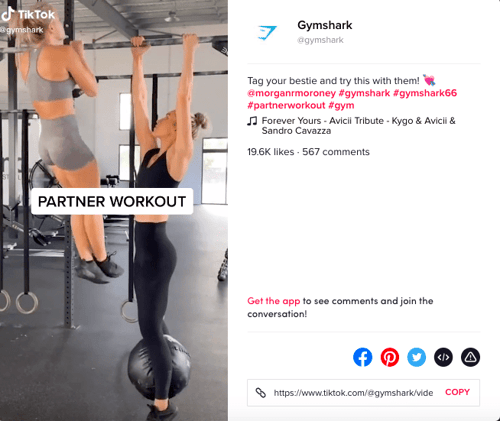 Gymshark uses TikTok as a way to demonstrate their clothes in action as well as post fun workouts for viewers. Since home workouts are high in demand, creating content to help viewers get fit even without access to a gym is opening up a whole new audience for Gymshark. Viewers don't feel like they're being sold on something because the content is also benefiting them and they get to see how well the workout clothes hold up while in use!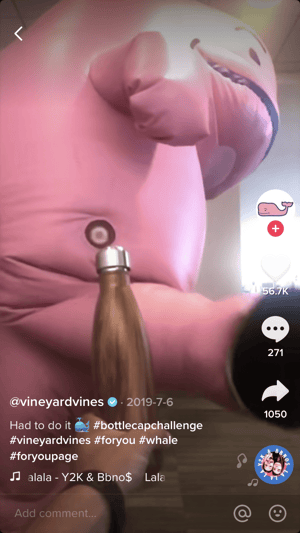 Vineyard Vines uses TikTok to entertain and engage their customers and potential viewers with trending content. For example, they participated in the #BottleCapChallnge with their mascot when it was popular! In addition to this, they incorporate their new styles into weekly lookbooks so viewers can learn how to pair some of their favorite clothing. By leaving a positive impression on viewers, they may be influenced to click the link and check out more!
These 10 examples of brands jumping right into TikTok and how they use it to drive sales should be just the inspiration you need to get started. TikTok is a great platform to test out fun and engaging strategies to see what works best for your company and its viewers. Get creative and utilize TikTok influencers while you're at it! Statusphere helps you get hundreds of TikTokers posting for your brand. To learn more, chat with a specialist today!